nanoStream Cloud Product and Services Overview
Real-time streaming to boost your business​
Enable interactive live video experiences that engage your audience anywhere, any time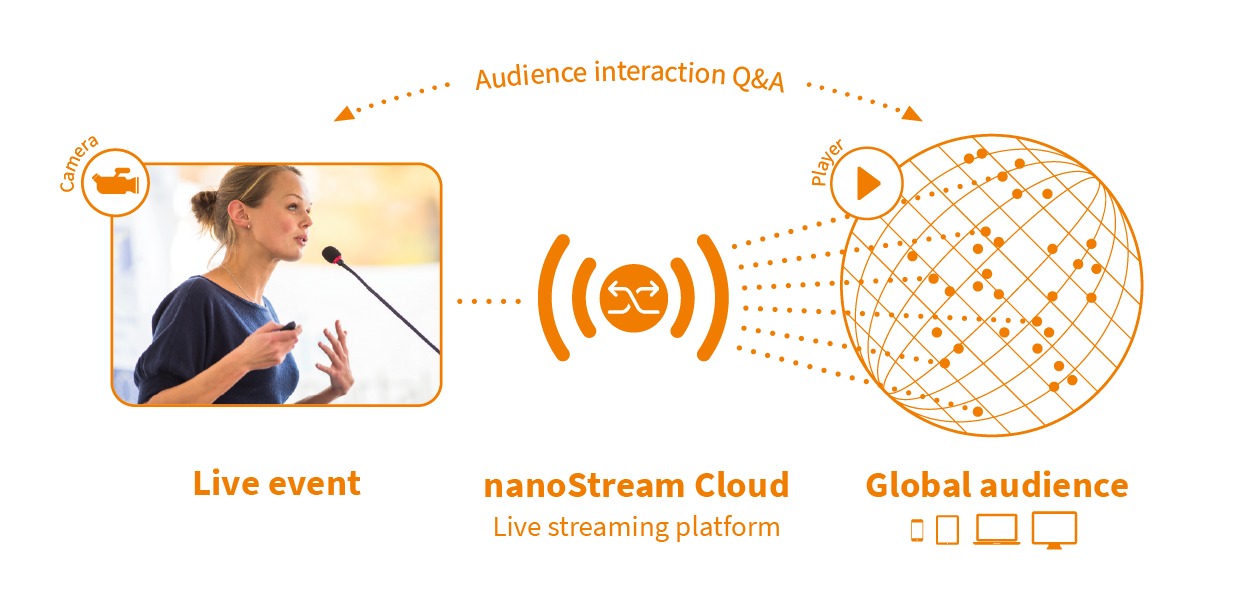 nanoStream Cloud is an unique platform and API for live video streaming in real-time, specifically designed for global interactive business applications. Whether it is for live betting, townhall meetings, or even e-commerce, nanoStream Cloud provides high-quality live streaming experiences, supported by its commitment to 100% uptime and 24/7 operations.
The platform includes a global Content Delivery Network, Adaptive Bitrate Player, Analytics and a hand full of powerful features, all crafted to enhance both the Quality of Experience and Quality of Service.
nanoStream Cloud Components​
Live Encoding​
Ingest with RTMP, SRT, WHIP and WebRTC such as with OBS and Osprey Talon
Instest plugin-free directly from your browser with the included nanoStream Webcaster
nanoStream Player​
Live Playback is supported with our unique H5Live player. The same player code runs on all browsers. The player code can easily be embedded on your own web page with a code snippet shown on the player page, or managed by our Javascript API.
Includes Adaptive Bitrate for playback with different quality levels, based on the viewer's network conditions. The player decides automatically which quality level to use.
nanoStream Analytics​
Complete streaming metrics overview for insights on Quality of Service and Quality of Experience.
Security​
Geo blocking
Token-based security
nanoStream Guardian for IP and Referrer blocking
Stream management dashboard and API​
Stream Management is done with our bintu dashboard and API. You will obtain and manage geo-loadbalanced URLs to enable global scale.
nanoStream Cloud at a glance​
Sub-second latency
Global footprint
Active stream protection
Live Transcoding and Adaptive Bitrate
Browser-based playback
Support to all major protocols RTMP, WebRTC, SRT, WHIP and more
Included Webcaster for streaming directly from the browser
Powerful API
User-friendly dashboard
Analytics
Resources​
You can keep up with the latest news updates of nanoStream Cloud, upcoming events and industry trends by following our blog.